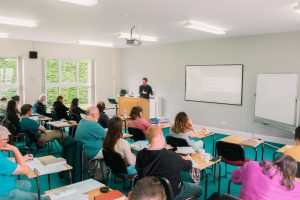 For more than 125 years Faith Mission Bible College has been equipping people from all over the world for a wide variety of Christian ministries.
We exist to equip passionate servants of Jesus Christ for evangelism, mission, and ministry.
We offer the opportunity to live and study as part of a Christian community in the vibrant city of Edinburgh. Our aim is to help students develop as God-focused, Christ-centred, Spirit-filled, Bible-saturated people. Our graduates enter a life of service in a range of missionary organisations across the globe. Some join the Faith Mission, some work in children's and youth ministry and others take on the roles of pastor and preacher in a local church setting.
If you are considering full-time or part-time study for Christian ministry, we'd be delighted to hear from you. You'll find courses that are biblical, practical and transformational.
The Faith Mission Bible College community is small enough to maintain a family atmosphere and all the staff are committed to helping you make the most of your time at college and benefit in every way possible. It is an exciting place to study, with a strong focus on the ministry needs of the 21st century.
Please take a good look through our website to find out more about what is on offer and how you can apply to join one of our courses.